Dr. Dragoș Zamfirescu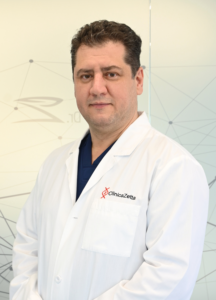 Dr. Dragoș Zamfirescu is Primary Physician in Plastic Surgery, Aesthetics and Reconstructive Microsurgery, with a remarkable experience encompassing over 8,000 interventions. Along his path in this medical field, he has joined passion and professionalism in order to build genuine support for his patients. Thus, he founded Zetta Clinic where he is currently performing operations, enjoying that he can help the patients so that their life changes for the better.
The commitment to his work has guided him throughout his career, making him accept the greatest challenges of this domain in order to develop his professional identity. Thus, Dr. Zamfirescu was a Research Fellow at the Microsearch Foundation of Australia in Sydney. 
He is also the holder of a national patent, BIOCOND NERV, a technology that allows regeneration in cases of peripheral nerve defects, awarded the gold medal at the Brussels Innova 2013, Brussels Innovation Fair. 
This is how when creating a doctor and a role model at the same time, one adds work, passion, professionalism, innovation and the ability to understand and to care for people.